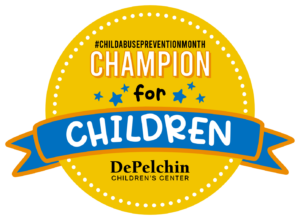 April is Child Abuse Prevention Month, which puts a spotlight on one of our most important goals here at DePelchin: keeping families safe and healthy and, when possible, intact.
DePelchin uses a range of programs to help families and prevent any form of child maltreatment. Our programs to prevent abuse and help families include:
Counseling services to support children and parents. Our clinicians help DePelchin clients facing any number of mental health issues, from substance abuse to anxiety to depression.
Parenting classes. These programs help equip parents with the strategies and approaches they need to maintain loving, caring homes for their children — including programs that are specifically focused on fathers and their unique roles in their children's lives.
The DePelchin Family Resource Center in the Spring Branch area of Houston. This is a one-stop shop for families seeking a variety of services. Families who visit the center can, for example, sign up for parenting or counseling services or learn about other available forms of support from DePelchin and other organizations.
Our foster care and adoption programs also play a vital role in providing temporary and/or permanent care for children who have been victims of maltreatment.
Throughout the month, we will be drawing attention to the need for all of us to be Champions for Children and help prevent abuse. For example, we are tying blue ribbons along the fencing at our Houston office as a way to recognize the 5,622 victims of child abuse or neglect in Harris County last year.
We will also recognize these victims with a display of pinwheels at Discovery Green Park in Houston for part of April, with each pinwheel petal representing one victim.
It's important that we remember these victims of abuse throughout the month and beyond and that we all work together to strengthen families and keep children safe. We are grateful for the many DePelchin supporters who help us offer these programs and we ask that you continue to support our efforts to keep children safe and healthy throughout the year.
CLICK HERE TO DOWNLOAD THE CHAMPION FOR CHILDREN ACTION GUIDE